Les Petits Bisous! is a confectionery for French macarons on the Chesapeake Bay in Havre de Grace, Maryland.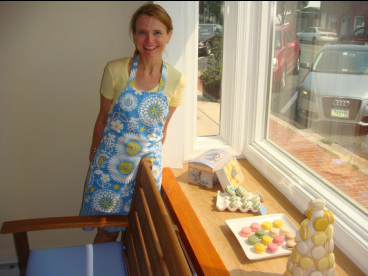 Wanda talks about the history of the French (Parisian) macaron on this Youtube video.
---
Welcome to Les Petits Bisous! ' Les Petits Bisous' means little kisses which seems a proper way to describe the colorful 'jewel' cookies that are Parisian macarons. Parisian macarons are crisp on the outside and soft in the middle, a delicate sweet which satisfies with its intense flavor and refined texture. These delicacies are truly unique and are a perfect accompaniment to an afternoon tea or coffee as well as a sophisticated dessert when entertaining at home. Parisian macarons also make stylish wedding favors and centerpieces!
Les Petits Bisous macarons are made using the French method of 'Macaronage' (mixing the batter until it becomes a glossy ribbon when poured) from a base of egg whites, sugar and almond meal. Macarons, regardless of flavor, are gluten free if they're made correctly. Les Petits Bisous macarons are also corn-syrup free and free of artificial flavorings. Great effort is made to create a true French macaron from the highest quality ingredients without fillers, artificial flavors or substitutes. Pure Belgian chocolate, pure white chocolate, handmade caramels and handmade lemon curd are a few of the reasons why our macarons taste so good!
Macarons can be kept fresh for days when refrigerated in an airtight container. We recommend that you consume our macarons within 3 or 4 days of purchase.
Like us on
facebook
for updates about events in Havre de Grace!